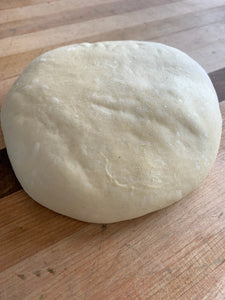 Sourdough pizza crust with some hints of olive oil. Arrives frozen, thaw and proof the afternoon of your pizza night.  Rolls out to a 12" pizza.
Pizza Doh
Prep: 
If you plan to use the doh soon, place it in the refrigerator upon receiving, or the freezer if it is for a later date. When you are ready to make pizza, take the doh from the fridge and let it rest in a bowl coated with non-stick spray for 30-90 minutes. When the doh has nearly doubled in size remove it and place it on a lightly floured work surface. With your hands or a rolling pin flatten the doh ball, and begin working it into the shape you desire. If the doh is sticking to your surface or your rolling pin, or your hands add more flour bit-by-bit, being careful not to over do it. Shape and top as you like. 
Baking:
We have had success with this doh while cooking it on pizza stones, on cookie sheets, in cast iron pans (still baked in the oven), and in wood fired pizza ovens. We suggest an oven that is preheated to at LEAST 425 degrees, if not hotter. Whatever technique you choose is up to you and will probably work. Be fearless and have fun, even the worst pizza is still pizza, so you got this!!